When you search for a product on Google, you'll typically notice Google Shopping ads at the top of the results page. Because they provide product information such as a product image, price, and store name, these ads are highly successful. Shopping campaigns are ideal for ecommerce businesses because they drive high-converting traffic.
Here's an example of how such ads might appear if you're searching for "rugby boots."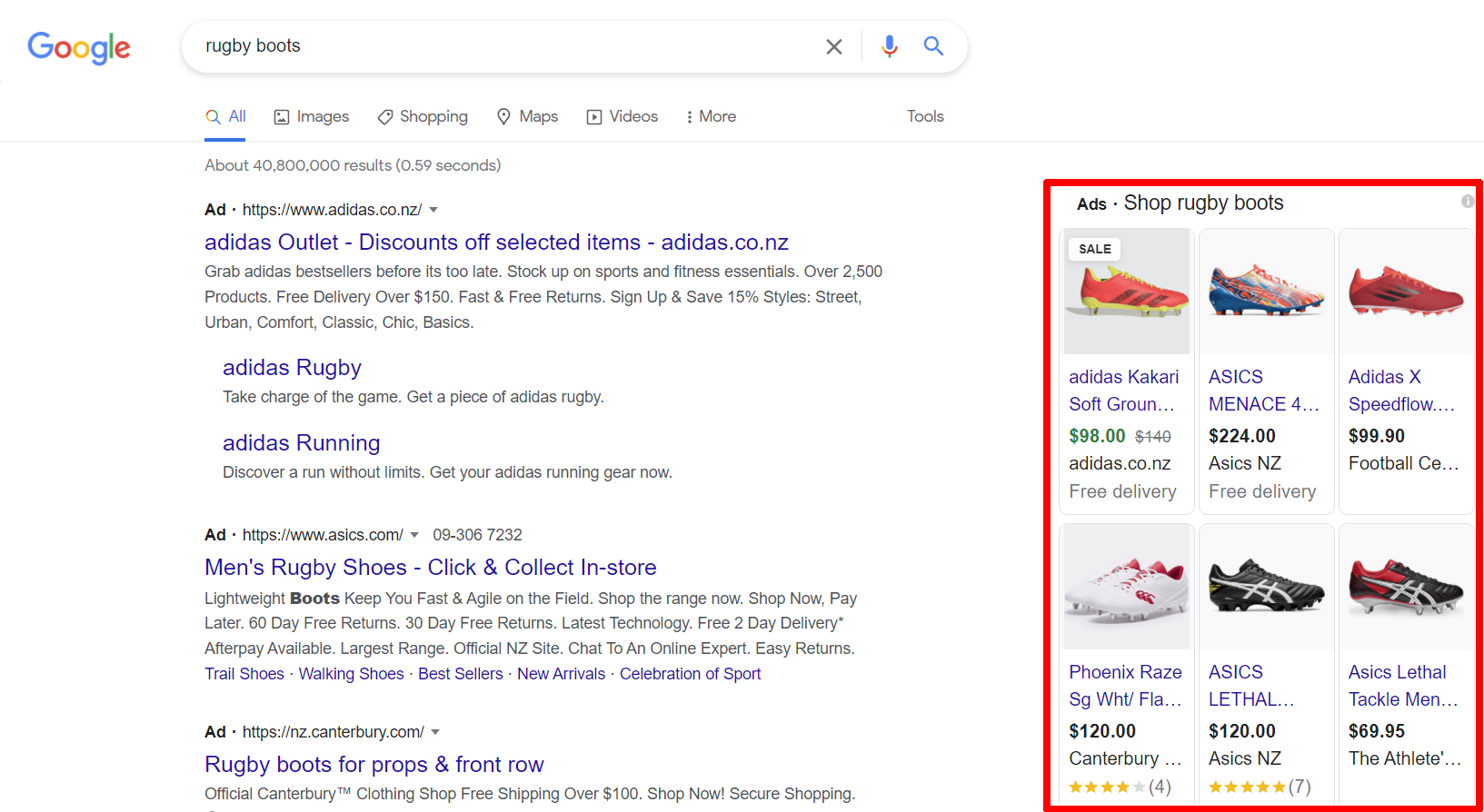 When 
a 
user 
clicks 
on 
your 
ad, 
Google 
directs 
them 
to 
the 
product 
page. 
Even 
if 
you 
want 
to 
increase 
sales 
in 
your 
brick-and-mortar 
store, 
Google 
Shopping 
Ads 
can 
benefit.
Benefits of Google Shopping Ads
Google Shopping campaigns have been shown to convert at a 30% higher rate than normal text ads. Another advantage of Shopping ads over Search text ads is that advertisers only have two search ad spots in mobile search, compared to twenty ad positions in the carousel for Google Shopping campaigns.
Because Shopping Ads are displayed at the top and side of Google's results, it's possible that the ads will be the only part of the search result that visitors will notice. As a consequence, the likelihood of customers clicking on your ad is significantly boosted.
Shopping ads also appear in image searches, increasing their visibility in Google results and the chance that potential customers will discover your product. Another advantage is that people who click on Shopping Ads are more likely to make a purchase.
Shopping Ads have a higher average clickthrough-rate (CTR) for products than Search Ads. This lowers the cost per click (CPC) of your ads, resulting in more traffic for the same ad spend.
As a result of properly generating a product feed that is needed for the Shopping ads, you will have to supply structured data for the products, which helps your website's SEO. As a result of the additional data, your products will organically rank better on Google.
Contact us today if you would like our help to set you up a Google Ads campaign that will benefit your business.